Last week RTP 180 presented a Halloween extravaganza.  Emcee Will Hardison, dressed for the occasion as a late model of himself, kept the evening rolling.
The evening began with The legend of Peter Dromgoole, a ghost story told by- Mike Childs of the State Library of North Carolina.
According to a legend, "a nocturnal duel, caused by a romantic rivalry, in which young Dromgoole was killed and buried under a boulder. Dark stains on the rock are reputed to be his blood, which would not wash away with the passage of time. University students, who told many versions of the duel legend, formed in 1889 a secret chivalric society called the Order of the Gimghoul,"  See http://ncpedia.org/biography/dromgoole-peter-pelham
Hair-raising lemurs and those who love them –  Chris Smith, Duke Lemur Center. http://lemur.duke.edu/
Chris Smith of the lemur center, tells us lemur means ghost.. Lemurs tap with fingers to find grubs. In Madagascar  these animals are a symbol of death.  They are often viewed as a harbinger of evil. Some believe, if one points its narrowest finger at someone, they are marked for death. These superstitions threaten the species.
ESP – for you and me – John Kruth, The Rhine Research Center
John discussed experiments being done with mediums at the Rhine and talked about evidence they are gathering about parapsychology.
Carolyn Miller talked about Chatham County and about the Court House in Pittsboro and other places in Chatham like the Devil's Tramping Ground. This area, not far from Siler City, is a barren circle about 40 feet in diameter where nothing will grow. Animals will not enter the area and anything left in the circle overnight is found outside the circle the next morning.
Doc from Triangle Brewing Company told us about the crawl space under the building. A body was found there before the brewery opened. Employees have experienced a ghost, Rufus, on numerous occasions and Rufus scared a News & Observer reporter who came to do a story about the brewery.http://trianglebrewery.com/about-us/rufus/
The finale was a dance macbre performed to the song Thriller by Michael Jackson.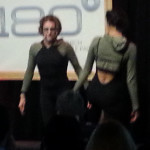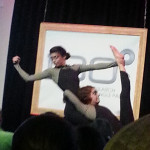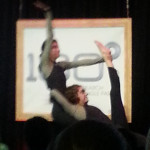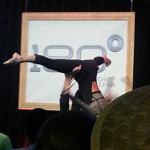 The whole evening brought goose bumps to some and thrills to others.